Single-Sided PCB


Simple and Smart
Simple and smart, the concept of the single-sided PCB is still the same as a long time ago, but it benefits from the latest innovations in production processes and materials. Single-side PCBs are mainly used for low-cost, price driven products with low wiring density.
A single-layer Printed Circuit Board is made of an insulating substrate with copper cladding. Most often, this material is glass fiber reinforced (fiberglass) epoxy resin or phenol resin on which a copper layer is laminated in the desired pattern. The copper circuits are coated with a layer of tin-lead to prevent oxidation and assist the soldering process. Other finishes are also available, such as
OSP
(Organic Solderability Preservative) or chemical gold. Contact fingers are plated with nickel, and finally electrolytic gold (0.025 to 2µm) for excellent conductivity. Different options are possible such as silver-cross or carbon connections, carbon contacts, and different types of solder masks which can be either silkscreened or a photo-imageable process.
What is Single-Sided PCB?
A Single-Sided PCB (Printed Circuit Board) is a type of PCB that has a
conductive pattern
on one side of the board. For wave soldered applications, this means that the components are mounted on one side of the board and the electrical connections are made on the other side. Components placed on Cu side would need manual hand-soldering or selective robot soldering. Single-sided PCBs are the most basic type of PCB and they are typically used in low-density applications where the number of components and connections are relatively low.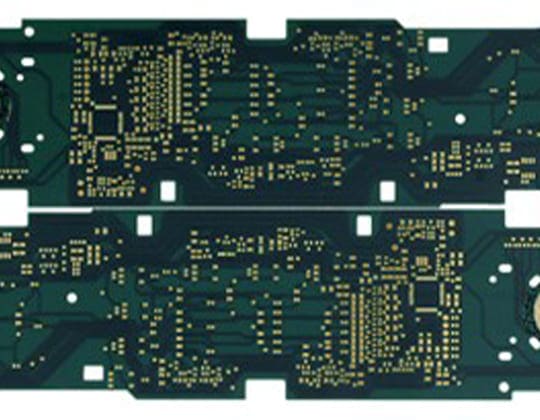 Base Material: The base materials used in Single Sided PCBs are FR4, CEM-1, CEM-3 (FR1/XPC,).
Thickness: 0.4 mm to 3.2 mm
Copper Weight: 1 to 2 oz/ft² minimum
Lines and Spaces: low cost 200um, minimum 100um
Layer Count: 1
Surface Finish: LF HASL, OSP, Im Tin, Im Silver, ENIG. (Recommended LF HASL or OSP due to price.))
Solder Mask: Green, White, Black, Blue, Red, Yellow.
Single-Sided PCB Materials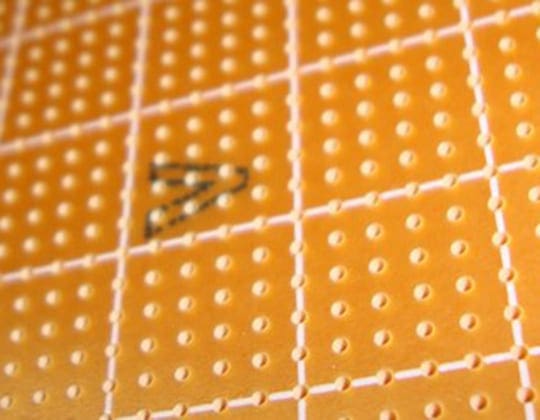 These materials are used in everyday devices that don't require a large amount of modern technology. They are made of paper and phenol which are cheap and easy to build, but with poor resistance to heat (130°). The FR1 is still available on the market but is gradually being replaced by CEM1/CEM3 and FR4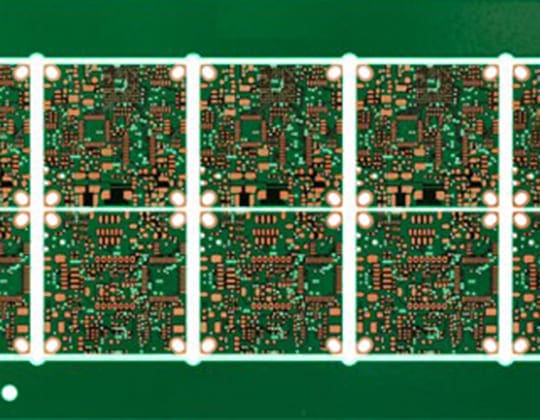 CEM-1 is a composite material composed of woven glass fabric and a paper core combined with epoxy resin. With the properties of easy punching, excellent electrical properties, and higher flexible strength, the CEM-1 provides excellent mechanical and electrical properties and punches well up to 2.36 mm (0.093″).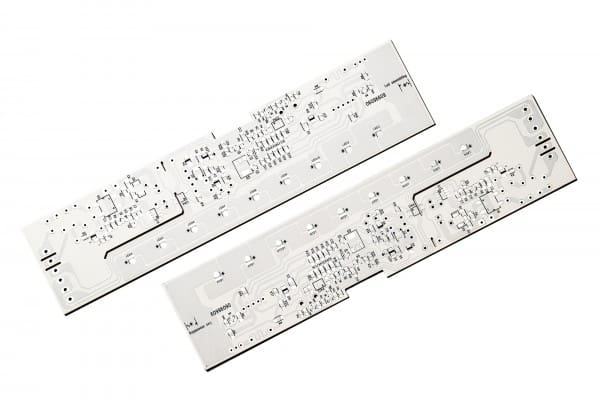 The CEM-3 is very similar to FR4 but instead of woven glass fabric throughout, a composite of a non-woven glass core and a woven glass surface is used. CEM-3 has a milky white color and is very smooth. It is a complete replacement for FR4 and has a very large market share in Asia. It is a type of flame-retardant epoxy, copper-clad, plate glass material, and is generally used in electronics for double sided-PCB boards.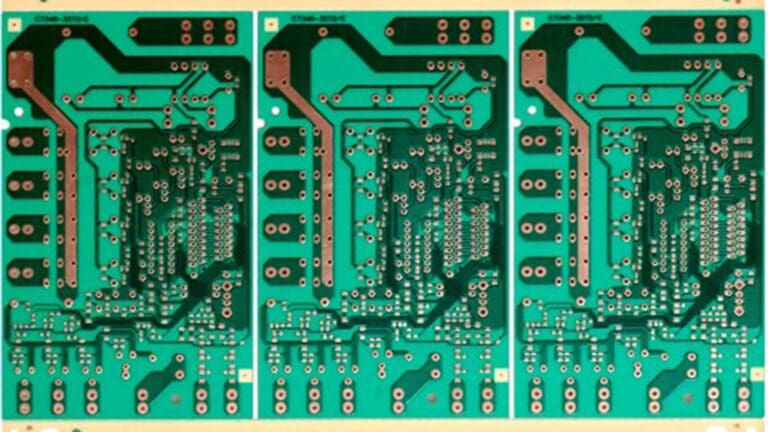 FR is the
short
term of "Flame Retardant". As a printed circuit board is made to work with electricity, it is supposed to resist heat. FR4 has a much better heat resistance than FR1/XPC thanks to the different composition of its
layers
. The FR4 PCB core is made of fiberglass epoxy
laminate
. It is the most used PCB material at 1.60 mm (0.062 inches) thick. The 1.6mm FR4 uses eight
layers
of glass fiber material as a standard. The maximum ambient temperature is between 120° and 130°C, depending on the brand and filler.
Do you Need Single-Sided PCB?
Single sided printed circuit boards are widely used in many electronics (camera systems, printers, radio equipment, etc.), especially in the automotive, consumer, and medical industry.
SS Feature
ICAPE Group Single Side technical specification
Technology highlights
Single side PCB without PTH. The cutting is carried out by hard-tooling with push-back option. Peelable mask, carbon ink, silver jumper on demand.
Materials
From cost effective CEM1 to FR4 with high

CTI

up to 900V option.
Base Copper Thickness
1 Oz to 3 Oz.
Minimum track & spacing
0.2mm / 0.225mm. Advanced 0,1mm / 0,1mm

Surface finishes

available

OSP

, HASL-LF,

ENIG

, Flash-Gold.
Minimum mechanical drill
0.2mm
PCB thickness
0.40mm – 2,4mm. Advanced 3,2mm.
Maxmimum dimensions
490x600mm. Advanced: 1200x285mm.
Close to you, you best contact
Learn more about Single-Sided PCB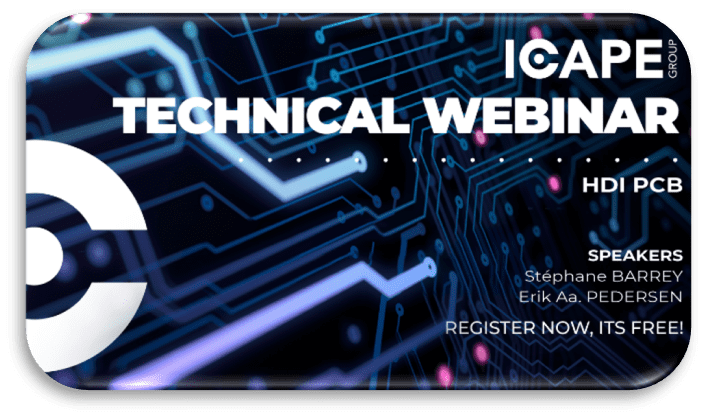 ICAPE Group invites you to our free technical webinars to enhance your knowledge of PCB technologies, technical part commodities, design, and materials.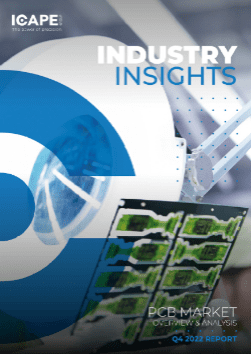 Discover our white papers for a deeper insight into the electronic industry. Technology, markets, supply chain, logistics… all you need to know is a few clicks away.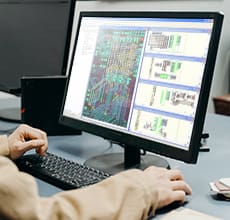 Made by PCB designers for PCB designers. Download ICAPE Group's design rules to optimize your final product.
There is an ICAPE Group team close to you and your business. All around the world, our business units are staffed with native experts available to answer all your questions.
Contact us today!