ICAPE Group acquires Swedish manufacturer and trader MMAB
ICAPE Group continues to apply its global strategy of expansion and diversify its factory network in northern Europe with the acquisition of MMAB, a Printed Circuit Board production plant and distributor in Sweden. Another milestone for ICAPE Group which strengthen its footprint on the Scandinavian market after the creation of ICAPE AB in Örebro (Sweden) in 2021 and the acquisition of MonPrint in Denmark, earlier in 2022.
With MMAB, ICAPE Group realizes one of the most important acquisitions in its history. Focusing on elevating its level of services and quality, ICAPE Group is accelerating in the Northern European market by integrating the MMAB structure.
MMAB is a pioneer company in the electronics industry. Created in 1970 in Malmö, the company has become a renowned printed circuit boards factory specializing in prototypes to volumes for its processes, equipment, and technical knowledge. MMAB also developed a factory partner network in Asia and Europe to provide its 200 active customers with a very high level of service. MMAB achieved close to 10 million euros of revenues in sales in 2021, with 38 employees. MMAB activities are mainly based in Scandinavia. In addition to its production plant in Sweden, MMAB has two subsidiaries in Eastern Europe, in Hungary and in the Czech Republic, as well as a structure in charge of sourcing and logistics located in China.
MMAB's managing director Tobias Hjelm is also very optimistic about the future:
We are now very proud to join the ICAPE Group, one of the world leaders in the PCB industry. Through this merger, we allow our customers to benefit from a full range of services with high added value, whether technical, logistical, or dedicated to the quality and sourcing of suppliers. In addition to our technical expertise and our specific network of suppliers, we provide the ICAPE Group with a European production platform that will cover the demand of customers looking for local production.
Indeed, this acquisition brings another strategic option for ICAPE Group's customers in the manufacturing of printed circuit boards, outside of Asia, for many industries such as Railway, Defense, Industrial, or Medical.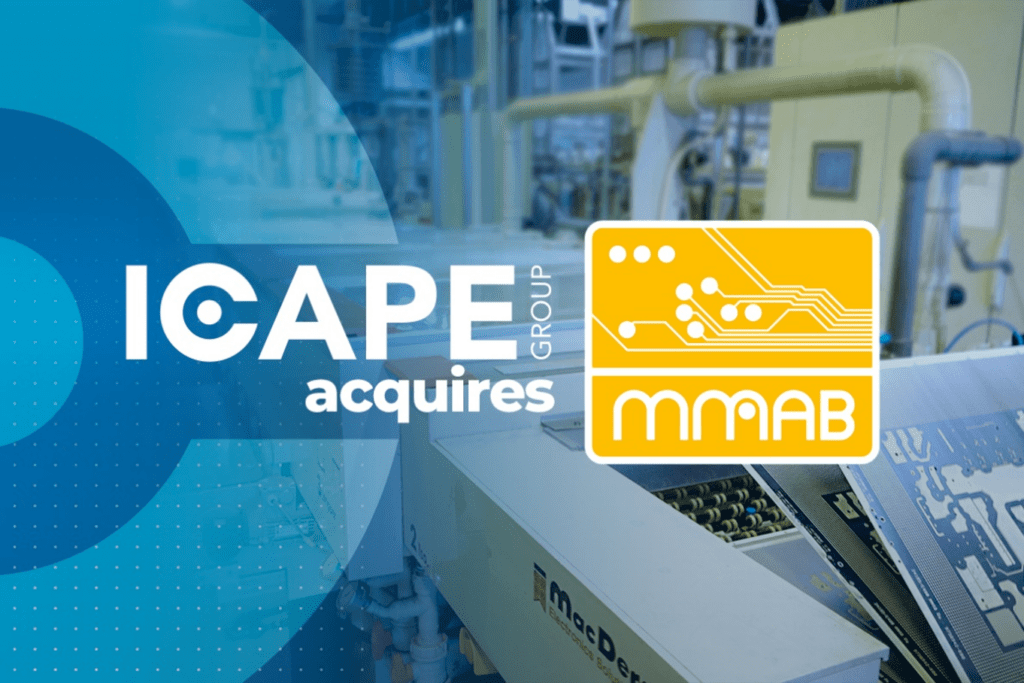 This new step forward is part of ICAPE group's growth plan, as explained by Cyril Calvignac:
"The acquisition of MMAB is strategic in many ways for ICAPE Group. We are thus consolidating our presence in Northern Europe, already reinforced last summer by the alliance with MON PRINT, while pursuing our industrial policy with a new production plant based in Europe. Finally, the acquisition of MMAB confirms the external growth objective that we had set for the year 2022. Backed by our proven ability to make acquisitions, we intend to pursue this offensive strategy in the short and medium term while maintaining a policy of optimizing our organization as well as solid organic growth."
In 2021 ICAPE Group acquired Trax, a factory and trading company in South Africa. For ICAPE Group's customers, the addition of this factory in Sweden consolidates its manufacturing offer for several PCB technologies, with short lead times, high quality, and cost optimizations at the best possible time. Considering the global context and the rise of specific requests, ICAPE Group can submit alternative choices regarding the location of the production with two internal factories. The performance of this new factory in the group's organization will be monitored and upgraded by Mrs. Christelle Bonnevie, the Chief Industrial and Performance Officer of ICAPE Group.