How to secure your supply chain during the Chinese New Year Celebrations?
Ensure the best chances to secure your supply chain during the Chinese New Year Celebrations with some good practices and information from ICAPE Group.
What is the Chinese New Year?
Chinese New Year is one of the most important holidays in Chinese culture. During this time, the beginning of a new year of the traditional lunisolar and solar Chinese calendar is celebrated. The first day of the Chinese New Year begins on the new moon that appears between January 21 and February 20.
In 2024, the Chinese New Year will happen on February 10th and we will enter the year of the Wood Dragon.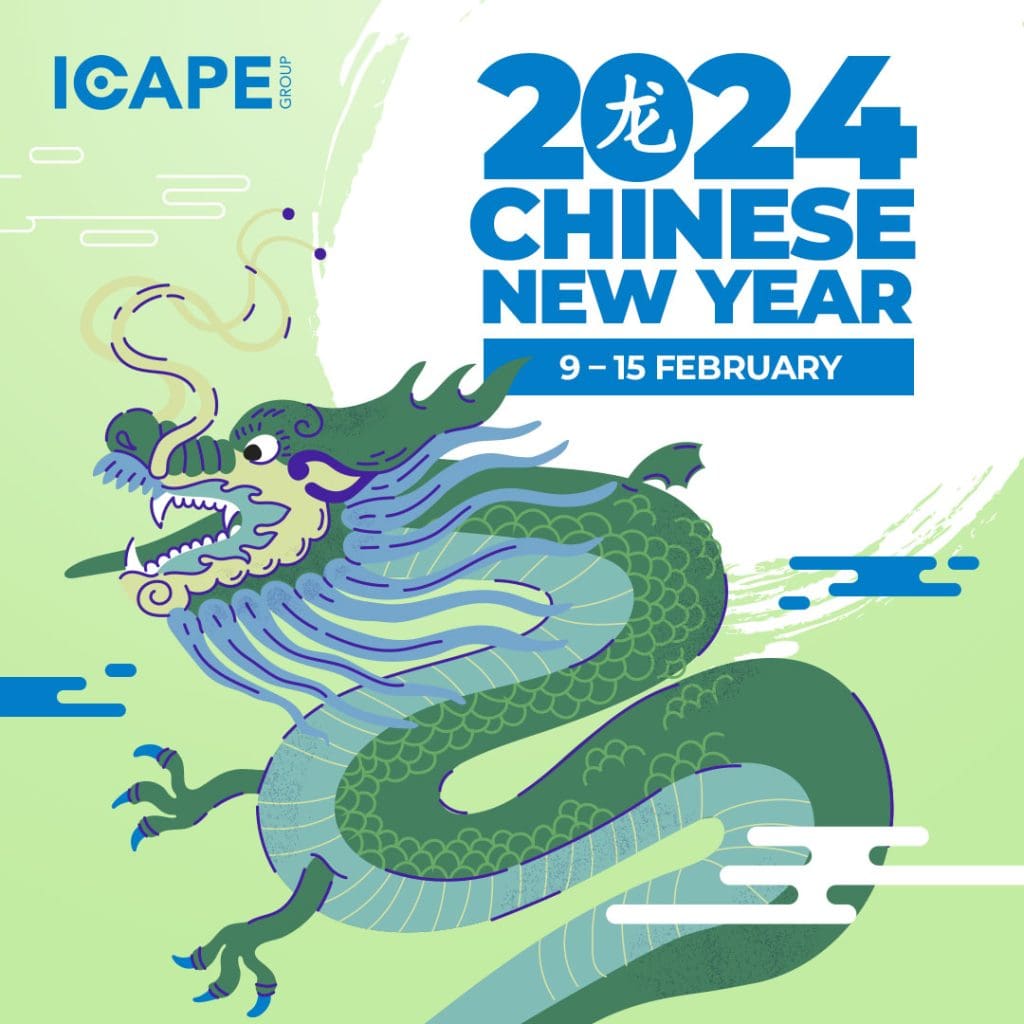 Why could Chinese New Year Celebrations affect businesses?
Over the last 20 years, China has become an essential country when it comes to manufacturing electronic components and devices. In terms of numbers, capabilities, and quality, most of the high-tech companies have a production link and activities with China. During the Chinese New Year Celebration, most of the manufacturing operations shut down for at least a week, but a slow down production occurs the week before and the week after the Celebrations. Considering this, longer production and lead times may affect the smooth running of operations. This year, factories will be closed from february 9th to 15th.
How ICAPE Group can help you to avoid any disruption during the Chinese New Year Celebrations?
1 – Plan early
First, the most efficient way to secure your supply chain is to plan early. The ability to forecast the demands and plan your orders will allow you to manage this period with efficiency.
2 – Prioritize critical projects
During the celebration period, the global supply chain will be affected with longer production delays and lead times. To avoid any inconvenience, the management of your priorities is a key point. As the production and shipment of products will be limited, it's important to prioritize the most important and urgent projects before the return to normal, a few weeks after the celebrations.
3 – Communicate with your Sales Engineer
Communication is also key. Contact your local window to schedule and optimize all operations regarding your orders and find the most efficient options to be delivered with the best lead times.
4 – Manufacture outside of Asia
ICAPE Group has developed a strong and efficient network of factory partners to manufacture Printed Circuit Boards and Technical parts in Asia, but also outside Asia. With owned production plants located in South Africa, in France and in Sweden, ICAPE Group can manufacture your products even during shutdowns in Asia.
5 – Benefit from ICAPE Group Logistic range of services
ICAPE Group offers many logistics solutions such as VMI, CMI, Call Of Services with a network of warehouses all around the world that allow us to store the goods close to our customer's headquarters or factories, but also a wide range of possibilities regarding the shipment by air, train, ground transportation, and sea freight.
Calendar:

Chinese New Year 2024 – Starting from Saturday, February 9
Chinese New Year 2025 – Starting from Wednesday, January 29
Chinese New Year 2026 – Starting from Tuesday, February 17
Chinese New Year 2027 – Starting from Saturday, February 6
Chinese New Year 2028 – Starting from Wednesday, January 26
Chinese New Year 2029 – Starting from Tuesday, February 13
Chinese New Year 2030 – Starting from Sunday, February 3