ICAPE Italia has entered a new phase of growth and development!
After five years of strong performance, ICAPE Italia is expanding to meet the growing demand for printed circuit boards and technical parts from the electronics industry. In order to accommodate this expansion, the Italian subsidiary of the ICAPE Group has moved to a new facility of 350m2 to not only welcome new members to its sales team but also to offer more efficient logistics solutions with a fully operational warehouse of 110m2.
As part of the ICAPE Group's strategy to establish a local presence in multiple countries, ICAPE Italia was established in Modena in 2017 under the leadership of Director Renato Farruggio. The outstanding success of this business unit has prompted the group to make a significant investment in this country, providing ICAPE Italia's team with the necessary resources to further enhance its services and activity regarding the supply of Printed Circuit Board (ICAPE) and Custom Technical Parts (CIPEM) to its customers.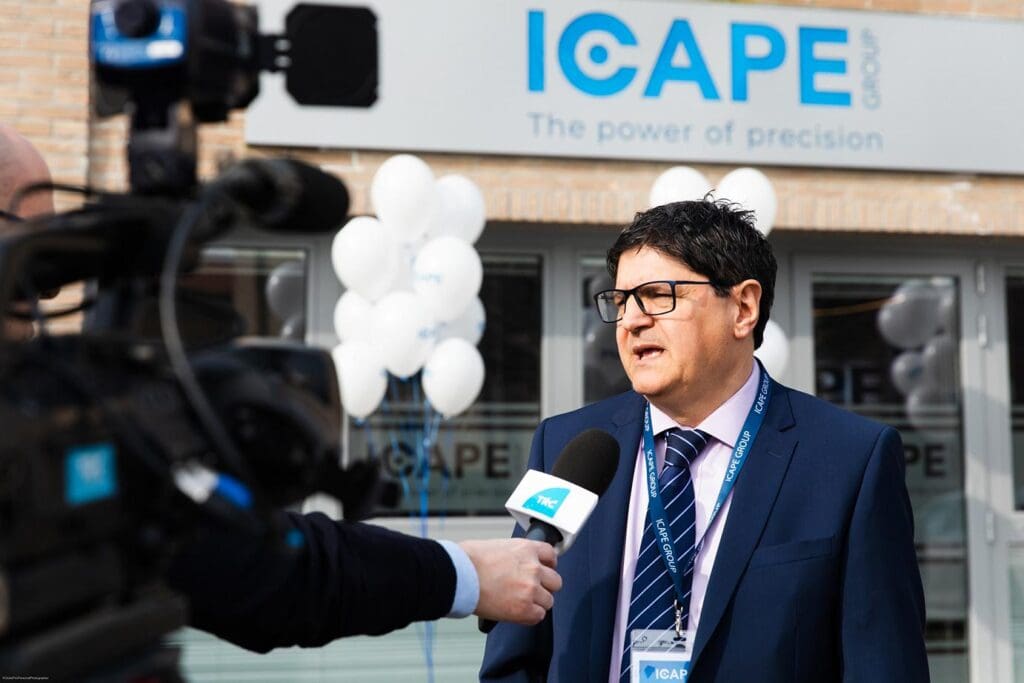 Cyril CALVIGNAC – CEO, Renato FARRUGGIO – ICAPE Italia Director, Yann DUIGOU – CMO
Moreover, ICAPE Italia accompanies the development of ICAPE Group and its logistics network, which now comprises of 12 warehouses around the world. ICAPE Italia looks to the future with the ambition of steady growth in turnover and service quality, with the support of ICAPE Group's services office in China staffed by 300 employees responsible for procurement, production, and quality control.
With a new, modern, and spacious location, Mr. Farruggio's team has been bolstered by the arrival of expert technical salespeople, enabling them to meet an ever-increasing demand for high-quality services and products. In addition to enhancing the capabilities of the team, the new infrastructure provides a logistics advantage by offering various storage and fast delivery options to customers.
ICAPE Italia has a wealth of advanced expertise in complex technical challenges, particularly in the automotive, medical, and railway sectors, as well as in all printed circuit and customized technical part technologies. ICAPE Italia also provides technical and strategic support to its customers, offering online training and real consultancy services to optimize the efficiency and profitability of finished products
Icape Italia
Via Eugenio Montale 20
41123 Modena (MO) Italy